Free Wifi
We are proud to offer free wifi on all floors and common areas. Also, any of our residents who still wish to have their own private wifi can get internet service at a discounted rate of $10 a month! Happy streaming!
Visiting Doctors and Nurses
We have a Chiropractor that visits once a week. A visiting podiatrist (foot doctor) and a Massage Therapist comes in once a month. Services such as Flu shots, covid shots and blood pressure checks are all available without leaving the comforts of home.
Government Food Rations
Focus Hope and Commodities onsite every month for income-qualified Residents.
Smart Bus access available
The Smart Bus is available for those needing transportation. They are scheduled to run every weekday to take Residents to local Grocery and Retail locations. Or schedule a special pickup!
Laundry Facilities on Every Floor
For the convenience of Residents, FREE Laundry Facilities are located on every floor of the building.
Monthly Newsletter
The building staff puts together a monthly newsletter with information such as scheduled bus runs, special events, and fun from crossword puzzles to recipes.
Small Pets allowed
One dog or two cats allowed per apartment. It must be under 40 lbs and less than 18 inches at the shoulder, Up-to-date on vaccinations. Other rules apply.
Some Handicapped Units
Thomas F. Taylor Towers offers limited One-bedroom and Two-bedroom apartments designed for the handicap. Please talk with the office staff for more information and availability.
Special Events and Picnics through out the year
The staff at Taylor Towers conducts Special Events through out the year for the residents' enjoyment, such as Summer Picnic, Halloween Party, Christmas Events, New Years Party, and monthly Karaoke.
Emergency Pull Cords in Every Apartment
There are (minimum) two emergency cords in every apartment. One in the bathroom and one in each bedroom. These cords are monitored by Guardian Alarm 24/7.
Free Health Seminars and Support Activities
Grief and Loss support group, Chair Yoga, and Arts and Crafts Classes are available weekly for fun ways to exercise the mind and body. There are a variety of Health Seminars conducted throughout the year.
Library
Our large Library contains a variety of books and Magazines. A Resident can check out a book or magazine to take home, or enjoy sitting and reading within the library.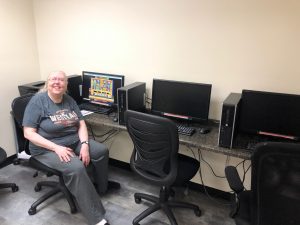 Computer Center
We have a small Computer Lab with three computers connected to the internet. All Residents have free access to the Computers 24 hours a day. They can send and receive email, look up information online or play computer games.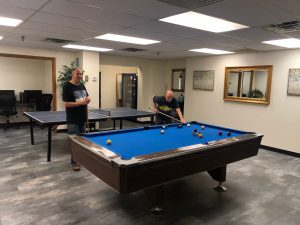 Activities Room
We provide a Billiard Table, Table Tennis, Chess and Checkers for our Residents to enjoy by themselves or as a group. This room also features two vending machines for snacks and cold beverages.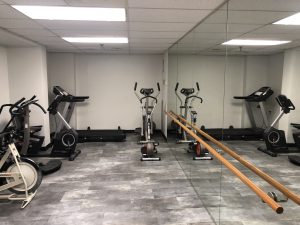 Exercise Room
We have a Variety of exercise equipment for our Residents to keep tone and strengthen. Open 24 hours.
Games and More
Cards, Shuffleboard, and Bingo games run by the Residents provide social interaction and offer something to do every evening.
Beauty Salon
There is an additional charge for service at the Beauty Salon. Hours and services available will be listed on the Beauty Salon door. By appointment only.
Card Room
Tables are ready for you and your friends to gather and play. This room is also equipped with a 65″ television with cable access. Shelves are fully stocked with puzzles and board games. You can venture here alone or bring your guests.